Bane

Real Name:

UNKNOWN

Alisas:

The Masked Man,

Antonio Diego,

Nino

Alignment:

Bad

Affiliation:

SANTA PRISCA Lex Luthor

Characteristics:

Gender - Male

Voiced by:

No information

Appears in:
Biography
Edit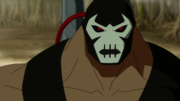 The Knight of KryptonEdit
Bane is a terrorist from an island nation hired by Lex Luthor to kill Batman and Superman.
Bane is a highly skilled martial artist having been trained personally in ninjutsu and other martial arts. He also uses brute strength, using his " Venom " to become superstrong, rivalling that of Batman, Superman, and even Wonder Woman.
Personality
Edit
He is very sinster, and enjoys watching people die. He likes to kill for fun. He is somewhat insane, but not competely.
Ad blocker interference detected!
Wikia is a free-to-use site that makes money from advertising. We have a modified experience for viewers using ad blockers

Wikia is not accessible if you've made further modifications. Remove the custom ad blocker rule(s) and the page will load as expected.