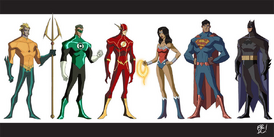 Justice League Members                           
             
                                Founding Members:
Aquaman|Batman|The Flash|Green Lantern|Martian Manhunter|Superman|Wonder Woman
   
                                 Other Members:
Animal Man|The Atom|Batwoman|Black Canary|Black Lightning|Blue Beetle|Blue Devil|
Booster Gold|Captain Atom|Captain Marvel|Cyborg|Doctor Fate|Doctor Light|
Elongated Man|Firestorm|Green Arrow|Green Lantern (John Stewart)|
Guy Gardner|Hawkgirl|Hawkman|Hawkwoman|Icon|Metamorpho|Mister Teriffic|
Plastic Man|Red Tornado|Rocket Red 7|Snapper Carr|Vixen|Wonderfire|Zatara|Zatanna
                          
                                 Staff Members:
Catherine Cobert|Emil Hamilton|Killowog

Pages in category "Justice League (Teen Titans)"
Ad blocker interference detected!
Wikia is a free-to-use site that makes money from advertising. We have a modified experience for viewers using ad blockers

Wikia is not accessible if you've made further modifications. Remove the custom ad blocker rule(s) and the page will load as expected.