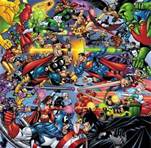 COMING SOON IN 2050...
Sneak trailer...
Edit
Announcer: The galaxy...is coming to an end.
(Shows buildings collapsing, planets exploding, huge space shuttle blasting innocent people)
Announcer: We don't know how we'll survive...
Announcer: One super powerful super hero can't take the threat alone.
(Shows Batman on a bridge, breathing heavily as his suit is completely ripped)
(Shows Spiderman as he gets slammed into a building)
Announcer: All we can hope for...is the best.
FROM MARVEL AND DC COMICS....
(Captain America, Iron man, and Thor are standing on top of a Stark Towers, as Wonder Woman, Superman and Batman are on top of Wayne Enterprises)
ALL HEROES....
(Shows every superhero at war against other superheroes)
Hulk: GREEN LANTERN? MEET INCREDIBLE HULK!
EVERY VILLIAN...
Joker: I didn't come here to play games, you know.
Venom: THEN GET OUT OF OUR WAY...
Red Skull: BEFORE WE BLOW UP THE EARTH FIRST!
HEROES MUST UNITE....
VILLIANS MUST FALL...
JLA VS. AVENGERS: WAR- COMING IN A FEW YEARS....