Killer Croc

Real name:

Waylon Jones

Alisas:

The Croc

The Gator of Gotham

The Beast of Gotham

Alignment:

Bad

Affiliation:

Darkseid

Injustice League

Characteristics:

Gender-Male

Hair-None

Eyes-Red

Portayed by:

KEVIN GREVIOUX

Appears in:

Justice League

The Knight of Fear
Biography
Edit
Pre-Justice LeagueEdit
Waylon Jones was born with a disfiguring skin disorder called epidermolytic hyperkeratosis. Because of that, his mother abandoned him in the sewers of Gotham City. Growing up in the worst parts of Gotham, and living in the Sewers, he soon became a killer.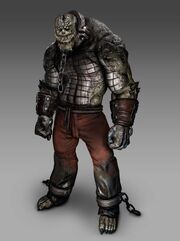 Justice LeagueEdit
Batman traced Killer Croc to the sewers one time, and the two of them fought againest each other. Later, Darkseid offered him the chance to defeat Batman and his friends once and for all. This was the birth of the Injustice League. In the end, he is defeated by Batman and sent to Arkharm Asyulm.
The Knight of FearEdit
When Scarecrow's gang blew up part of the Asyulm, Killer Croc was released. He thought againest Batman once more, and was defeated again. He was locked up in an updated version of Arkharm that was made after the movie.
Killer Croc uses brute strength to defeat his enemies. While not as strong as Bane, he is a force to be reckoned with.
Personality
Edit
He is insane, and possibly eats his victims. He likes to fight with strong people .